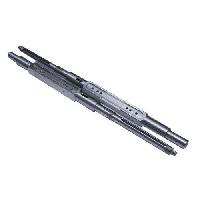 Jaw shafts are used in the industry for transmitting torque and rotation between shafts and help protect components from damage. The packaging machine jaw shafts are tested on different standard quality parameters by professionals. These machines are widely accepted by customers in India and abroad. Jaw shafts are commonly used industrial machines like pumps, blowers and mixers. It is widely used in the power transmission industry. Guidelines to buying Packaging Machine Jaw Shaft from online stores.
Certified vendor
When it comes to buying a Packaging machine jaw shaft, you must look for a certified vendor to buy quality products. Established and reputable jaw shaft manufacturers can provide a quality product at competitive rates. It also diminishes the chances of you getting an inferior quality product to a great extent. These vendors or manufacturers can also assist you with finding a precise packaging machine jaw shaft that fits your application needs the best.
Quality Standards
A quality product is vital for successful application and desired use. When investing in the packaging machine jaw shaft, make sure to go through the product description to get an idea of whether the machine has passed the necessary and set quality tests before finalizing the purchase. Opt for branded and quality products to get value for your investment.
User-Friendly Design
The best feature of a jaw shaft packaging machine is its user-friendly design. The jaw shaft packaging machine should be easy to install and used in your desired application hassle-free. Packaging machine jaw shafts are used for a wide variety of applications for its user- friendly design, performance and low maintenance.
Easy Return- Policy
If you are planning to buy a packaging machine jaw shaft from online stores, you must go through the return policy of the company or store before finalizing the purchase. Make sure that your jaw shaft packaging machine dimensions are as per order and the machine has reached safely to your desired location. If you find that the jaw shaft machine is damaged during transit or you have been delivered the wrong dimension, the company will replace the machine without much hassle and stress on your part through an easy return policy.
Customer Assistance
If it's your first time using the jaw shaft or you need assistance during the installation of the machine, you need a technical professional to come to your product assistance. Several packaging machine jaw shaft suppliers provide professionals to help their customers take care of such problems. Opt for suppliers and wholesalers who offer customer assistance at economical rates to aid you through the use and installation of packaging machine jaw shaft.
The above-discussed guidelines are only among the few. You can also compare the prices of the packaging machine jaw shaft on various websites to get good deals and discounts on bulk purchases for your desired application. Study and understand the jaw shaft packaging machine applications properly before selecting the jaw shaft packaging machine dimension for your desired use. Packaging machine jaw shafts are highly in demand for their amazing benefits and features and are therefore readily available in online stores across the country.