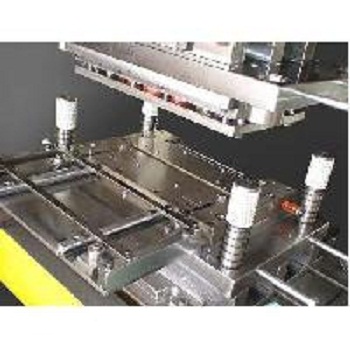 The machine by the euro slot punch supplier is quite popular and versatile. It gives the user or the operator a choice of punching out round corners, euro slots, or any other custom shape. The euro slot punch can punch up to a thickens of three millimetres. The machine is quite easy to usage, is heavy-duty, and durable as well. The backstop containing an optionable table makes the machine comfortable to use.

It also allows the different types of punching as well as die-cutting. The versatile machine provides endless possibilities to the user for the punching of the different shapes and sizes of the punch. A euro slot punch manufacturer creates this machine to enable affordable die-cutting services. This not only has availability of various custom dies but also have backstops with optionable table to ensure more accurate cutting, especially for the round ones.

Moreover, the euro slot is supplied as a standard tool to the users. The euro slot punch machine is ideal for the -

1. This is best suited to the card corners for business, for the retail bags, and various other things.
2. It is ideal for the punching of the holes of the euro slot machine in the foil, paper, leather, plastic, and many more.
3. It is ideal for the users that punch individual holes making the use of custom-tailored tools.
4. It can be used where the thickness is around two to three millimetres.

Features Of the Euro Slot Punch

There are numerous features for the packaging machine euro slot punch. The machine is made up with the help of experts and under special guidance that makes it valuable and worthy not only in terms of many but also in terms of the service provided by it. Some of them include –

1. The Heavy-Duty Construction of Metal – The machine is made of iron and various valuable metals that make it strong enough to be used over for years. The construction of the euro slot punch takes a lot of effort as well as heavy-duty. however, all the cost in the production of the machine is covered through the services provided by the quality machine. Also, the machine needs to be kept safely and with due care which if not done can lead to its rusting and hence the non-convenience in the work.

2. Interchangeable Knives – The structure of the euro slot punch machine is made such that the knives or the blades put insides can be replaced or interchangeably used. This feature saves the cost of the user as the larger investment is only one time and the different purposes can be fulfilled through this interchangeability feature.

3. Availability Of Customized Knives – The euro slot punch machine consists of a variety of components attaché din it. One such item is knives that are used to cut the packaging all through very neatly and accurately. All the euro slot punch machines by any supplier or manufacturer are available with the customized knives as per the usage of every user. This gives users a trustful impact on the entity and hence the feature makes the tool popular.